"LOBOC – Tuburan sa Musika" Annual Religious Celebration in honor of the feast of St. Cecilia, Patron of Music
As an annual celebration of the annual feast of St. Cecilia, Patron of Music, originally celebrated every 22nd of November,  the Lobocanons proudly presented their exceptional performances last November 21, 2015, 7:30 PM at the JAD Cultural Center. Organized by the Local Government Unit of Loboc, headed by the Town Mayor, Engr. Helen C. Alaba, the celebration manifested great gratitude and thanksgiving to the dear Patron of Music, as Lobocanons are known for their musical legacy. It was attended by the municipal officials and employees, their ex-mayor Leon A. Calipusan, honored guests, and the people of Loboc, creating an atmosphere of unity and gratefulness.
In honor of St. Cecilia, came the idea of "Loboc-Tuburan sa Musika" as this year's theme. The occasion was an auspicious opportunity to highlight the town's rich culture of Music. Participating groups such as Loboc Children's Choir, Loboc Youth Ambassadors Band, Loboc Children's Choir Adult (LCCA), All Boys Choir, Sawang Cultural Society (SACUS), Broken Chords Choir, Couples for Christ Choir, Senior Citizen Choir, The Cruisers Band, and Gotozon Balsa Performers, joined in the celebration with costumes and musical instruments.
This had been a memorable celebration of thanksgiving and sharing of musical blessings to the Lobocanons that took forms of musical performances of local legendary band and choirs that depicted oneness of Lobocanons with the Divine Source of blessings, as  blessings themselves, and with the whole mankind. Such a wonderful demonstration of the local performances from a small town, driven with big dreams. This is just a connotation of how the Almighty God had poured extraordinarily remarkable blessings to the religious people of Loboc.
Loboc's admiration in music and cultural heritage makes Lobocanons unsurprisingly produce exceptional talents and skills in the young generation. Top of the list reveals the most renowned and world famous Loboc Children's Choir and the equally outstanding local performer Loboc Youth Ambassador's Band.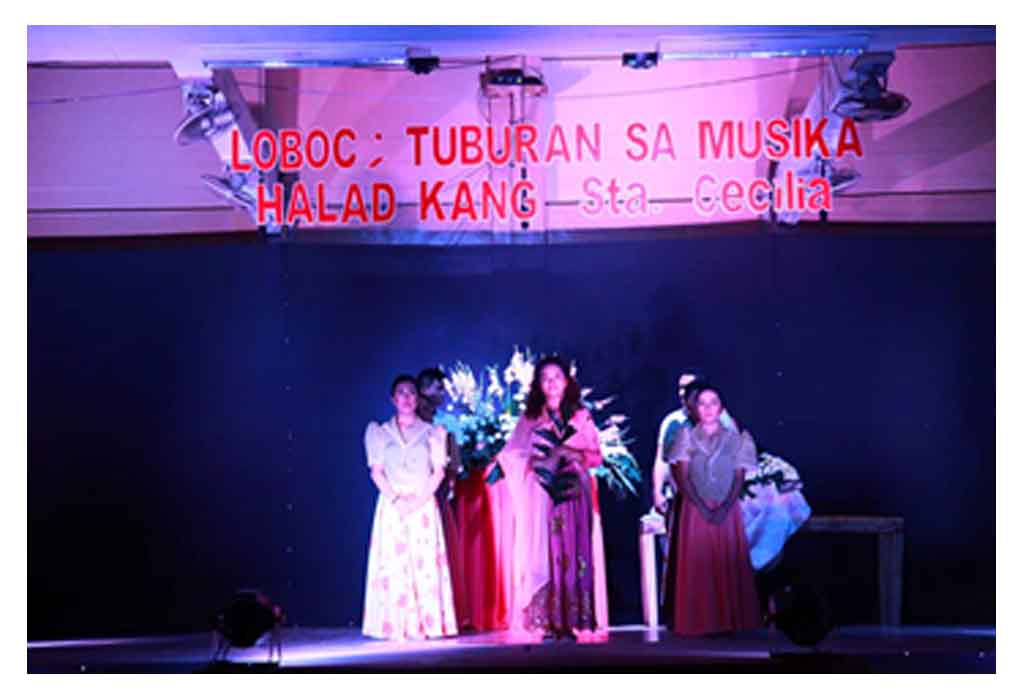 During the event also marked a memorable awarding ceremony of the two important persons who gave great contribution of the Music in Loboc. Mrs. Ricarda G. Cal, the composer of the Sta. Cecilia Hymn, received a plaque of Recognition from the LGU which was received by her son, Mr. Garces Cal (left). Same also was received by the Composer/Arranger, the late Mrs. Librada Balbin thru her grandson, Mr. Aljun Balbido. The prestigious awards were given by Honorable Engr. Helen C. Alaba, Vice-Mayor Pablio D. Sumampong, and one of the legendary musicians of the town, Mr. Camelo Sarigumba, head of Loboc Band.